How to Clean a Retainer
Since a retainer goes in your mouth, it is really important to know how to clean a retainer.
Methods for How to Clean a Retainer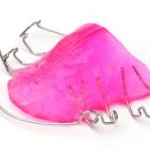 The easiest way to for how to clean a retaineris with a toothbrush and toothpaste. A good time to clean your retainer is when you are brushing your teeth since you already have your toothbrush and toothpaste handy. Put a dab of toothpaste on the toothbrush and scrub all over the retainer. Rinse with clean water.
Another method for how to clean a retainer is with organic castille soap. This has been recommended by dentists. Use a squirt or two of organice castille soap in a small dish of water then soak the retainer. The main ingredients in castille soap are olive oil and coconut oil which do a great job of cleaning the retainer without using any chemicals.
Some orthodontists have a very simply recommendation for how to clean a retainer: soak the retainer in water and one denture cleaning tablet. Use two tablets if the retainer has buildup on it. Soak for 15 minutes then rinse.
Words of caution about how to clean a retainer: do not put the retainer in boiling water as this can damage the retainer, do not soak the retainer in mouthwash that has alcohol in it as this can dry out the retainer and cause it to crack. It is not recommended to use baking soda to clean a retainer because baking soda changes the pH of your mouth and a retainer has the potential to absorb and this puts your gums at risk of exposure.
Be sure to also clean your retainer case before putting your clean retainer away. Simply use warm soapy water to scrub all surfaces of the retainer case. Rinse with clean water and dry.
Dentists recommend that you never let your retainer dry out because tartar and biofilm can start bonding to the retainer. Keep your retainer in your mouth or in distilled water in your retainer case.
Knowing how to clean a retainer is an important part of having one.