How to Clean Birkenstocks
With the right amount of dedication, you can wear in your Birkenstock sandals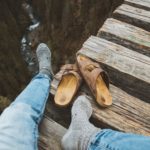 without wearing them out.  Maintaining clean Birkenstocks is challenging because a shoe of its kind is made of lesser used natural materials, such as recycled cork and untreated leather. There is a straightforward way to clean Birkenstocks without damaging them: the company produces their own cleaning solutions.  Shield the cork footbed from the elements and prevent dried-out edges from manifesting by using Birkenstock Cork Sealer, eliminate odours and dirt with the Cleaner & Refresher, and protect leather straps with a coat of Water & Stain Repellent.
Alternatively, universal shoe-cleaning products suffice if you already have them on hand.  The more often you clean Birkenstock sandals, the more life you will get out of them.  Here are the cleaning procedures you should follow, according to Birkenstock:
Cleaning Birkenstock Footbeds
If the cork looks like it's drying out, apply a thin coat of sealant to the affected edges.
Let sealant set completely before the shoes are worn.
Spray the entire footbed with your cork-safe surface cleaner and wipe it down with a cloth to catch excess dirt.
If your shoes have suede or nubuck footbeds, brush them to extract the dirt. Avoid using liquid to clean them.
Cleaning Upper Straps
Apply repellent regularly to protect upper Leather, Suede and Nubuck from water and dirt. Birkenstock defines regularly as being on each day that you wear your sandals.
Parts of the straps with suede or nubuck surfaces should be brushed to pull up dirt and dust.
If your Birkenstocks have non-leather straps, wipe them clean with a cloth damp with water and a small amount of soap to treat stains.
Additional Care Tips
Anything you use to clean Birkenstocks can change the look and finish of the materials, so be careful to test cleaning products not endorsed by the company on a small section of the shoe that is not visible when worn.
Keep your sandals out of extreme heat, as prolonged heat exposure leads to irreversible damage. When you are at the beach removing your Birkenstocks to cushion your feet on sand of equal comfort, it is best to pack them away in your bag. Birkenstock even recommends not leaving their shoes in parked cars on hot days!  If they become wet, you must wait patiently for them to air dry.
Birkenstock emphasizes the need for a frequent cleaning schedule, but if you want or only have the time to get by on the bare minimum, you should clean Birkenstock sandals at least once a season.