How to Clean a Keurig
Learning how to clean a keurig will prolong the life of the brewer and ensure it is operating properly.
How to Clean a Keurig Brewer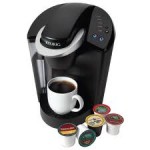 The external components of a Keurig can be cleaned with a soapy, damp, non-abrasive cloth. Do not immerse the brewer in water or any other liquid. The K-Cup holder, funnel, drip plate and drip tray are all dishwasher safe. The removable water reservoir and lid are NOT dishwasher safe so you should wash them by hand with warm, soapy water and a non-abrasive cloth. In order to ensure you don't contaminate your water supply, ensure that no cleaning solutions or cleaners are in or near the water reservoir.
Be sure to perform a cleansing brew to ensure that the K-Cup holder is clean and clear of residue after brewing hot cocoa, Cafe Escapes or Perfect Iced Tea K-Cup varieties.
How to Clean a Keurig K-Cup Holder
Remove the K-Cup assembly. The K-Cup holder can be washed in the dishwasher. The funnel is also dishwasher safe. To clean the exit needle of coffee grounds or cocoa mix, insert a paper clip into the tube and move it around to loosen the clog and remove debris.
Descale your Brewer
Every 3-6 months, you should descale your Keurig. Although scale is harmless, it can hinder the operation of the brewer. Please see your Keurig instructions applicable to your particular unit.
Learning how to clean a Keurig brewing systems will allow you years of optimal use.