How to Clean Pampered Chef Stoneware
Learning how to clean pampered chef stoneware properly is important because it keeps your stoneware in the best condition possible, allowing you many years of cooking enjoyment. Pampered Chef Stoneware is a natural clay product. It does not require any special cleaning methods or products. In fact, cleaning Pampered Chef Stoneware is the complete opposite! You only need clean, hot water and a nylon scraper. Do not use dishsoap or put your stoneware in the dishwasher with dishwasher detergent. Soap and detergent will cause the food you cook in the stoneware to taste like soap. Yuck.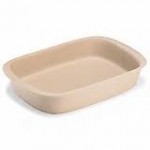 Here's How to Clean Pampered Chef Stoneware:
General Cleaning
Hand wash your stoneware.
Be sure stoneware is cool.
Soak stoneware in clean, hot water to loosen any stuck-on food.
Using the nylon scraper that came with your stoneware, scrape off any food.
Rinse and thoroughly dry stoneware before putting it away.
Deep Cleaning
To deep clean your stoneware, make a paste of 1/2 cup baking soda and 3 tbsp of water.
Apply the paste to the areas of the stoneware you want to deep clean. Let sit for 15-20 minutes.
Scrape off paste and rinse really well. Dry stoneware thoroughly before putting it away.
Pampered Chef stoneware comes in many different shapes and sizes. These cleaning tips on how to clean Pampered Chef stoneware are applicable to all stoneware dishes.