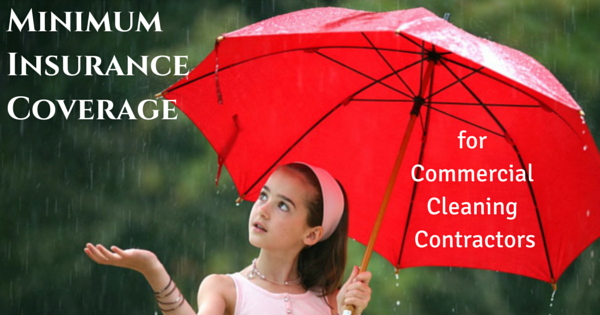 What are the minimum insurance requirements you should be considering when outsourcing your night cleaning? This is a relatively important if not a critical risk management basic.
In most cases, the average building or business will have millions in assets including the building, inventory, and computer systems that need insurance protection. Insurance coverage is also critical to guard against the effects of a business interruption if a disaster strikes.
General Liability Exclusions
There are some very import factors to be sure you are aware of when looking at potential suppliers and the insurance coverage they offer you.
The number one factor to understand is general liability exclusions. The care and custody exclusion is an exclusion that protects the insurance company from covering damage under the control of the janitorial service. Insurance companies will not insure against incompetence and will not cover things under the control of the cleaners.
Let's take a look at a couple of damage issues that insurance companies would NOT cover based on the care and custody exclusion.
The janitor is using a floor machine and forgets to put a cleaning pad on the bottom and scratches up the floor beyond repair. This is different from the liability that may be covered if the floor scrubber falls down the escalator while unattended; you may have a case for coverage in that instance.
An employee leaves a mop sink faucet running on the top floor and the building floods. The flooding causes tens of thousands of dollars in clean up and repair not to mention business interruption. This is likely not covered since the process of filling the sink is under the janitor's control.
What if an employee stores supplies or mops too close to a gas powered hot water tank with open flames on the bottom and starts a fire? If this fire got extinguished due to the sprinkler system, causing the same level of flooding in the business with similar effect as the overflowing sink would it be covered? More than likely this situation will be covered since it is something not under the direct control of the cleaners in the course of their duties.
The reason for the care and custody exclusion is that insurance companies assume janitorial companies know how to conduct the core functions of their business. If the janitorial company is careless or incompetent, the insurance carrier does not want to be the guarantor of the work.
This is an import factor in deciding to hire and outsource; insurance will not cover incompetence, so you better be sure you are hiring a competent company that can demonstrate their expertise in the field.
Types of Insurance Coverage Your Cleaning Company Should Have
A cleaning or janitorial service will have insurance to cover a variety of exposures, but not all are relevant to your business. Below are the coverages you should inquire about.
General liability for bodily injury and property damage to others.
Automobile coverage for liability arising from the use of company and employees vehicles.
Workers compensation to cover their employees' work-related injuries or illness. This coverage is crucial! If cleaners are in your business working without coverage, you will be held accountable as if they are your employees even if they are employees of a supplier company.
Umbrella liability to provide extra limits.
Employee fidelity coverage to cover theft by employees, both from you and your customers. This type of bonding is difficult to get and takes extra time for insurance companies to underwrite. Often companies will say they are bondable which is not the same as being actually bonded. It is important to understand the distinction.
Important Cleaning Business Insurance and Bonding Questions You Should Inquire About
General Liability
How much liability coverage do you have?
The value of our inventory, computer systems, etc. is $X. Will your policy cover us fully if your employees cause damage?
In many cases, 2 million would be the minimum coverage they should have, but it must be analyzed to arrive at a figure that covers your risk. Don't underestimate!
Lawsuits against cleaning industry workers are not uncommon. In one notable case, a cleaning company was sued when a worker was accused of scratching glass in a custom-built residence. The suit was for over $300,000 in damages and legal fees. – Trused Choice
Bonding
As discussed earlier it is easy for a cleaning company to say they are bondable, however if you feel the risk of items being removed or stolen is great you should be asking directly for evidence of bonding.
A standard fidelity bond will cover theft by an employee from the employer. To cover an incident such as an employee stealing from a customer, the bond must be specially endorsed, and many bonding companies will not do this because of how difficult it is to measure the risk.
Commercial vehicle insurance
Does your janitorial supplier have to drive to multiple locations to service your business?
Are there assets that could be affected if they damage something in the course of driving?
Then you should be sure they have adequate and up to date insurance for the vehicles used in the course of their duties.
Managing your risk
Insuring that your outsourced janitorial provider has adequate insurance is an important part of your risk management plan. Only you can determine the unique requirements of your business and what your minimum requirements should be for your suppliers.
The coverage your cleaners have must cover the potential costs of damage caused by negligence or incompetence as well as theft. In most cases, $2 million dollar general contractor liability insurance coverage is enough, but there are important distinctions to understand about exclusions and what is covered and what is not.
It is also important to understand that it is difficult to become bonded and most companies are not. If it is important that this risk be covered, ensure that it is spelled out in the insurance policy. General liability coverage is not a fidelity bond and does not cover theft.