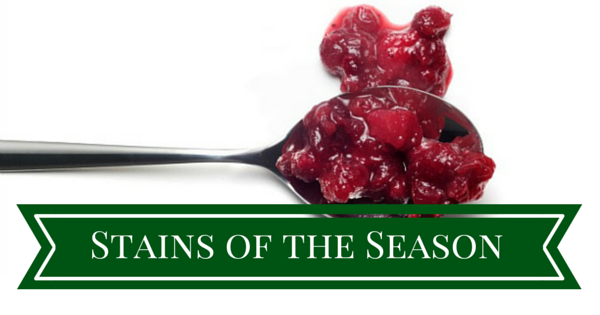 We all love the holidays; they give us a chance to let loose, relax and over indulge in all manner of food and drink without having to feel guilty about it. Unfortunately, with all that food and drink getting carried around, it's pretty common for a fair amount of it to fall on the floor.
I know over the years I have been very popular at parties when a big spill happens. I quickly get called over and asked for my expertise in removing the offending red wine stain. Depending on the number of eggnogs the party goers have had, my performance can meet with ecstatic cheers or quiet indifference. Either way, I always get a call.
The holiday season is about decorations and spending time with loved ones. It is a tremendous amount of work to pull off a successful gathering.
As a professional cleaner, I understand that few people give the same amount of care to preparing for the cleaning part of the holidays. So whether you are reading this to get prepared or because an accident has already happened, let's go over the most common holiday stains, and I will give you some tips to treat them.
Left untreated, these stains will leave a lasting reminder for years to come that is often unnecessary if you are prepared.
Survey Says!! IICRC Identifies the Top Holiday Stains
In order to identify the holiday seasons top stains, the IICRC (Institute of Inspection Cleaning and Restoration Certification) had Harris Poll conduct an online study from Nov. 13-17, 2014 among 2,014 adults. The poll identified the top 9 stains that occur during the holidays.
The survey states, that spills and stains occur in at least two-thirds of American residences over the holidays. And the IICRC is using a far larger sample size than the Family Feud so we know we are getting quality information,
What is the most commonly found type of holiday stain? It is not surprising that chocolate tops the list. This tied with fruit punch, which was a little surprising to me, but I guess it's the little kiddies that are running around with the fruit punch and spilling it everywhere.
The four areas where staining occurs are carpets, hard floors, rugs, and upholstery. I know that's everywhere except the walls
Top Holiday Stains
The top five stains are:
Chocolate – 26 %
Punch or dye-based drink (Sunny-D or Kool-Aid etc.) – 26 %
Grease – 23 %
Red or white wine – 21 %
Candle wax – 19 %
The next most common stains are:
Vomit 18 %
Beer 16 %
Gravy 15%
Butter 10 %
The study also identifies other interesting stain facts:
The Midwest is leading the country in vomit stains at 23%.
The Northeast is well behind at 15%.
The West virtually tied with Northeast at 14%.
Highest incidence of cranberry sauce stains occurs in the Northeast at 11%.
The Midwest is far more careful with the cranberry sauce at 6%.
Here is an obvious statistic: younger people ages 18-34 (74%) are more likely than those age 45-54 (63%) and those age 65+ (59%) to have encountered stains during the holiday season. I believe this is mostly because older people fall asleep shortly after the holiday meals. Ok, so I made that last part up. I am in the older category so I can say that with authority.
Getting Prepared to Deal With Holiday Stains
Here are some ideas to prepare you for any stain that comes your way this holiday season. I want you to be able to look like the hero; making people feel good is what the holidays are all about, and if you can quickly and easily remove the red wine stain from the carpet, the offending party won't feel bad for long.
Blot, Dilute, and Blot
To treat and remove most stains, the IICRC recommends using a three-step process of blot, dilute and blot.
First, blot the stain with an absorbent colorfast towel (white is best) to remove excess liquid or material.
Next, dilute the stain with water, which is safe to use on most fabrics. Finally, blot the spot again to remove any excess water.
Once you've treated the spot, cover it with a folded towel and place a heavy object (you can stand on the towel, give that job to the person who spilled the drink) over it to help absorb any additional liquid.
First, remove as much of the staining material as you can before absorbing/blotting e.g. chocolate or vomit etc.
Blotting or absorbing stains in this manner will treat a majority of stains, but when all else fails, you should call in a professional to limit further damage," adds Jason Baptist, IICRC certified carpet cleaner. Certified carpet, hard floor and upholstery cleaning professionals will have the right tools, equipment and knowledge to remove your stains and restore your floors and upholstery to their former glory.
IICRC (Institute of Inspection Cleaning and Restoration Certification) services 25 countries and is highly regarded as an organization, which develops standards for certification and inspection in the cleaning industry. IICRC certification is what you should be looking for when sourcing out a cleaning professional.
So in your emergency spill kit have a couple clean, dry white towels, water and be ready to absorb or blot up stains as they occur.
Oh and a quick tip for candle wax (which doesn't really come up with blotting), if you can't remove it by hand, is to place a towel on the wax and heat up the wax with an iron through the towel so the melting wax absorbs into the towel.
Good luck and happy holidays!