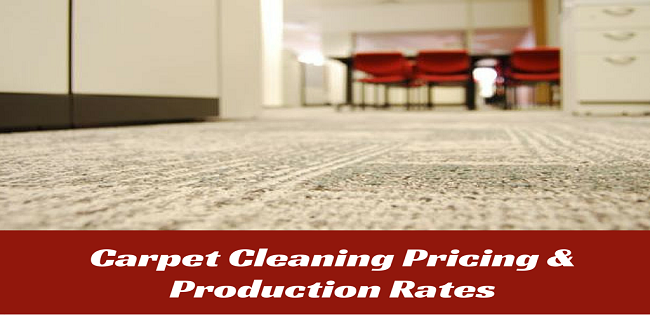 Do you think that an accurate carpet cleaning quote is something you can get directly over the phone? Do you think a professional carpet cleaner should be able to provide you a ball-park estimate of carpet cleaning costs based on the square feet you provide? Maybe you've had several quotes and feel that commercial carpet cleaning prices are all over the map?
The reality is that the calculation of carpet cleaning costs is not so simple.
There are several variables to consider when calculating carpet cleaning costs. These variables impact the amount of time a job takes and which cleaning processes, chemicals, and equipment the job will require to obtain high-quality results.
Ready to get an inside look into how a professional carpet cleaner prices out a carpet cleaning job?
Variables That Impact Carpet Cleaning Costs
Although this list is not all inclusive, below are many of the most important variables that impact the final pricing for carpet cleaning jobs.
Time and Cost Variables
The current condition of the carpet?
Customer expectations?
Residential or commercial?
Size of the job?
Is there anything special, out of the ordinary or unique about the job that will take more time?
Interim cleaning or deep/restorative cleaning?
What is the soil level and are spots present?
Are pre-vacuuming, pile lifting or pre-spraying and agitation required?
Are you hiring employees or using sub/independent contractors?
Is it a one-time job or a repeat job you can do several times per year that will likely lead to additional work?
Are There Additional Profit Opportunities?
Are there additional services that can be bundled to increase the profitability of the job? Additional value added services can allow the overall bid to be more competitive. These might include: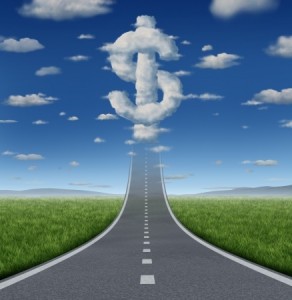 Repairs
Spot removal
Odor removal
Furniture moving
Topical treatments
Disinfection or sanitization
Inspection and consulting services
Blind cleaning
Ceiling and wall cleaning
Upholstery cleaning
Window cleaning
Hard floor cleaning and maintenance.
Understanding Standard Markups
In this article, we provide many different price and production rates. To properly evaluate your costs, understand that there will be markup for the following:
Profit: 20 to 400 percent or more on labor and supplies.
Overhead: 10 to 40 percent on labor and supplies (15 to 20 percent is most common).
Labor and staffing: 40 to 75 percent.
Chemicals: 2 to 5 percent.
Fuel: 2 to 6 percent.
Equipment: 2 to 8 percent.
Supplies: 2 to 3 percent.
Understanding Estimating & Bidding Strategies
There are multiple strategies that are employed for creating carpet cost estimate and bid. Below are the ones that are commonly used for carpet cleaning, as well as standard ranges used for calculations.
Cost per square foot:

Commercial: 4 to 25 cents for wet extraction; 3 to 15 cents for low-moisture interim processes. Larger commercial work is often bid at a cost per square foot that is half or less than rates charged for residential jobs of 1,000 to 1,200 square feet.

Time and materials:

Set rate per hour and cost of supplies, $20 to $65 or more per hour, $100 minimum.

By the hour:

$25 to $65 or more per hour.

Computerized bidding:

Per program or user-definable, commercial and residential programs are available.

Difficulty factor approach. A systematic approach to pricing involves tracking the production time for every job. In addition, the following difficulty factors can be assigned a weighted score to arrive at a composite score. With some tweaking, the total score can be totaled and divided by two. This computation then becomes your price per square foot.

Soil load
Stain removal
Furniture to move
Color of carpet
Total square feet
Obstacles to go around
Carpet cleaned on a regular schedule
Numerous small rooms to clean (congestion level)
Pre-vacuum necessary
Rake cut pile when finished
Setup and put away time
Total score (divide by two to arrive at your final price per square foot).
Average Cleaning Production Rates
 
Square Feet Per Hour

Carpet Cleaning Processes

Minimum
Maximum
Hot-water extraction (using a truckmount with wand)
600
1400
Hot-water extraction (using a truckmount with rotary wand)
800
1500
Hot-water extraction (using a portable/box unit with wand)
600
1200
Hot-water extraction (using a pull back/self-contained unit)
800
1800
Hot-water extraction followed by bonnet cleaning
400
500
High-flow extraction rinse (with auto dump and fill)
1,500
2,500
Encapsulation (with an 18- to 20-inch planetary head)
1,500
2,000
Encapsulation (with an 18-inch cylindrical brush)
1,000
1,250
Encapsulation (dry foam with a 24-inch cylindrical brush and vacuum)
12,000
Encapsulation (with walk behind 12- to 15-inch machine with a cylindrical brush)
500
1,200
Walk behind extractor
1,800
4,000
Riding extractor
5,000
15,000
Rotary shampoo (with a 17- or 20-inch/175 revolutions per minute (RPM) machine)
1,000
1,500
Rotary shampoo and extract (with a 17- or 20-inch/175 RPM machine)
400
500
Spin bonnet (with a 17- or 20-inch/175 RPM machine)
1,500
2,500
Dry absorbent powder (2 to 7 or more cents per square foot for materials)
750
1,500
 

Vacuuming

Minimum
Maximum
12- to 14-inch upright
2,000
3,000
16- to 18-inch upright
3,500
4,500
24-inch upright
4,000
6,000
Backpack
4,000
11,000
 

Edging

Minimum
Maximum
Edging Only
2,000
7,000

Wide-Area Vacuum

Minimum
Maximum
28- to 32-inch
5,000
12,000+
48-inch
10,000
15,000+
Pricing & Production Rates for Add-on Services
Service
Priced By
Cost Range
Pile lifting (16- to 18-inch): 1,500 to 2,500 square feet per hour
Per Square Foot
3 to 4 cents
Repairs And Spot Removal: 1,500 to 2,500 square feet per hour
Per Square Foot
3 to 4 cents
Small, medium to large spots
By Job
$20 to $250+
Red Stains
By Job
$20 to $60
Urine
By Job
$50 to $1000+
Loom Oil
By Job
$65 to $600
Adhesive
By Job
$50 to $85
Roll Crush
By Job
$50 to $300
Specialty Spot Removal
By Job
$30 to $250+
Repairs (re-stretch, seam repair, burns, patch, re-burl, etc.)
By Job
$40 to $150 or hourly rate
Carpet Dyeing over Spots
By Job
$30 to $100+ / hour
Carpet Dyeing Full Room
Per Square Foot
20 to 45 cents with $100 minimum
Side match/feather blend correction
Per Lineal Foot
$15 to $25 with $250 minimum
Remove carpet
Per square foot
15 to 30 cents
Sell carpet, cushion and install
By Job
Markup of 30 to 40 percent
Install carpet
Per square yard
$4 to $6
Mini blinds
Per blind
$4 to $10
Draperies
per pleat, per linear foot or per pound
Varies by locale
Upholstery
Per item or lineal foot
$20 to $220 / item OR $15 to $45 / lineal foot
Ceiling cleaning
Per square foot
10 to 35 cents
Window cleaning
Hourly, per unit or per job
$35 to $55/ hour
Hard floor maintenance
Per square foot
5 cents to $1.35
Tile and grout cleaning/sealing
Per square foot
75 cents to $2
Stone polish
Per square foot
$1.50 to $2.50
Stone restoration
Per square foot
$2.50 to $15+
Inspections
By the job
$75 to $1000+
Consulting
Per Hour
$85 to $250
Specialized cleaning services
Per Hour or Job
$100 to $250+ / hour
Topical Chemical Applications:
Pre-spray – prior to cleaning (4,000 to 6,000 square feet per hour)
Per square foot
1 to 3 cents
Deodorizer
Per square foot
10 to 30 cents
Disinfectants and sanitizers
Per square foot
10 to 30 cents
Anti-stats
Per square foot
7 to 10 cents
Stain/soil repellant
Per square foot
12 to 25 cents
With so many add-on services available, how do you know what you need? Â When you get a professional quote, the provider should be able to discuss which services will prevent wear and tear and minimize the cost of re-cleaning. Top recommendations often include:
Entry Mats
Topical protectants
Regular vacuuming
Routine cleaning based on foot traffic.
Specialty Rug Cleaning
Area rugs must be assessed separately from regular carpeting due to the vast differences in materials used and the additional care that must be taken to clean them. Some area rugs can be cleaned on the premises while others require special processes that must be done off-site. Â Below are the commonly assessed factors and average pricing:
Area Rug Cleaning Variables
Average Pricing
Woven, Oriental, specialty and machine-made
$2 to $3 per square foot
Handmade
$2 to $3.50 per square foot
Specialty rugs, furs, hides, silk
$4 to $5 per square foot
Domestic area/designer rugs
$1.58 per foot
Pickup and delivery
$150 within

25 miles

Repairs
$40 to $60 per hour
Don't Forget Sales Commissions!
Yet another factor to consider in the final cost of your commercial cleaning prices are the commissions that the cleaning company needs to pay it's technicians. On top of their average hourly pay rate of $9 to $15 per hour, many of them will earn 5 to 7 percent of the billable amount as a commission. For those technicians that are paid commission only, they will typically earn 15 to 30 percent of the total billable amount.
Conclusion
There is no easy way to determine accurate commercial carpet cleaning prices without having an in-person bid from a well recommended commercial carpet cleaner. There are too many factors to consider in the evaluation process, which is why we recommend you get at least 3 bids before moving forward.
If you plan to contract long-term with your chosen cleaning service, you should ask about long-term discounts to reduce your overall costs. Be sure to also inquire about services like traffic lane maintenance to reduce the frequency of full cleanings and pricing and turnaround for one-off jobs so you have a full picture of what you can expect from the company you select.
The information for this article was gathered directly from: Cleaning and Maintenance Management Online. Gary Clipperton and William R. Griffin (March 10, 2014). Carpet Cleaning Pricing And Production Rates. Retrieved from: http://www.cmmonline.com/articles/print/carpet-cleaning-pricing-and-production-rates-3