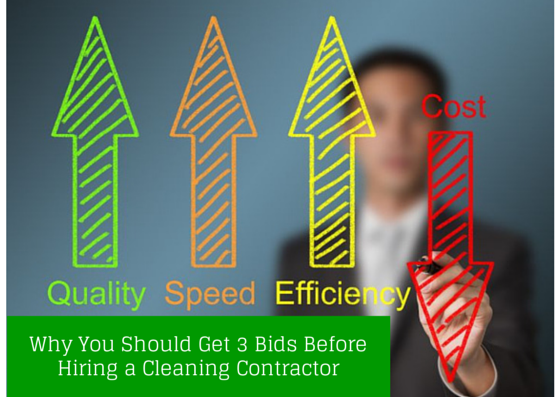 When it comes to hiring a new cleaning contractor, do you feel overwhelmed? If so, you are not alone. Making a decision about whom to hire to clean your property is tough.
Hiring the wrong contractor could put your property's reputation at risk. It could cost you more money in the long-run from lost tenants and contracts.
As you start the process of hiring a cleaning contractor, you will need to request commercial cleaning bids. These bids expose the average market rate for a property and job such as yours. They also help you determine the contractors experience. Most important, getting multiple bids allows you to create a healthy amount of competition.
While there is no golden rule to the number of bids you need, there are benefits to getting 3 bids before hiring a cleaning contractor.
Become Better Informed About the Marketplace

When it comes to cleaning contractors, there is a wide-range of options available. Some contractors will exceed your expectations and keep your propertys reputation sparkling clean (as well as your building). Others will do the opposite.
The first step toward any smart decision is to learn about the marketplace.
Getting at least 3 bids helps you understand how various companies operate within the industry. Knowing this gives you a stronger idea of what to look out for when hiring.
If you get only one bid, seeing these critical differences is difficult  if not impossible.

Guard Against Complacency
Competition is healthy in markets such as the cleaning industry. It motivates contractors to perform better because they know they can be replaced. It also drives budgets down.
Here's proof.
Recently, a story came out about a property manager who submitted a Request For Proposal (RFP). The request came after a change in company policy. It was the first time it had been done in 20 years.
What the property manager got back shocked him. The existing provider submitted a quote 12% lower than the budgets submitted three months prior.

When the contractors you consider know that they are in a competitive environment, they will compete. They will bring down their prices to look more attractive to you. They will show off their strengths so that you can see the true experience and professionalism behind their work.
You guard against complacency, and you win. Your company gets a better idea of how each cleaning contractor stacks up against the competition. This allows you to make the best decision for your property.
Pre-Qualify Your Cleaning Contractor
As you submit your RFP's, you may discover that many cleaning contractors look similar on paper. These similarities can make your decision more difficult. To help narrow the pool of prospects, consider conducting a pre-qualification questionnaire.
The questionnaire does a few things for your business:
It allows you to find the companies with a specific expertise you are looking for.
It enables you to narrow the pool of contractors to those experienced in working with your specific type of property.
When conducting the pre-qualification questionnaire, the types of questions you ask are critical. The right questions give you the answers needed to make the most informed decision for your property. They also set expectations with your prospect. This way, they have a better understanding of what type of company you want to hire.
Here are some ideas of questions that you can ask to shed more light on each candidate you're considering.

What types of special populations (such as children, elderly, etc.) do you cater to?
We have # restrooms that require X amount of restroom supplies. Are these included in your bid?
Do you use environmentally-friendly cleaning materials?
We require that all paper products be separated and recycled. Does your company offer this type of service?
Will your company do periodic deep cleaning on certain flooring in high-traffic areas? If so, how often and how much more will this service cost?
Please provide a price for the common areas of our building and the areas that need to be cleaned after being occupied by tenants.
Please provide proof of insurance and bonding.

Set your contractors up for success by stating your expectations clearly at the end of your questionnaire. Include when you want all bids to be submitted and when you anticipate the work would begin.
Would you like an editable Word document of a pre-qualification information package for janitorial services? Download it here.
Conclusion 
Getting three bids will give you the type of information you need to make the most informed decision for your property. The clearer your job specifications, the better (and more accurate) the bids you will receive.
Want to learn more about how to find the best market price and contractor for your job? Check out our free report, Dynamic Planning for your MRO Business Needs: How to Apply Cost Effective Strategies when Procuring Maintenance, Repair, and Operations Services for Your Business. Armed with this in hand, you'll have everything you need to make the smartest and most cost-effective decision for your company.