Cleaning up the Clutter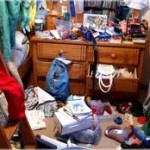 When trying to keep your home neat and tidy, cleaning up the clutter is the first thing to do. Better yet, don't let clutter accumulate in the first place! The best way to reduce or avoid clutter altogether is to handle each thing only once. Instead of dropping dirty clothes on the floor only to have to pick it up later and put it in the laundry hamper, put them directly into the laundry basket. Put things away the first time. It takes you less time to do it right the first time than having to come back and put clutter away later.
If you find putting stuff away in the first place is too tough for you, you may want to have a designated clutter area – perhaps a bin in a closet or a specific place on the kitchen counter. Be sure to periodically put away the things at your clutter spot. Once you are in the habit of putting your clutter in your designated place, you may find it easier to gradually start putting things away instead of in the clutter spot.
In many cases, once you start eliminating clutter, you will find it easier to keep your house clean, as a sense of pride in a clean home can be encouraging for everyone in the home.
Have fun cleaning up the clutter!