Whether your home is small or large, an apartment in the city or a country cottage, it is a space that should be at once beautiful and livable. The key to that is managing the upkeep without feeling flustered. Until now, there has never been a comprehensive resource that not only tells how to care for your home and everything in it, but that also simplifies the process by explaining just when. With secrets from Martha Stewart for accomplishing the most challenging homekeeping tasks with ease, this detailed and comprehensive book is the only one you will need to help you keep your home looking its best, floor to ceiling, room by room.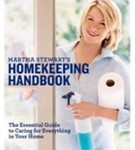 In Martha Stewarts Homekeeping Handbook, Martha shares her unparalleled expertise in home maintenance and care. Readable and practicaland graced with charts, sidebars, illustrated techniques, and personal
anecdotes from Marthas decades of experience caring for her homes this is far more than just a compendium of ways to keep your house clean. It covers everything from properly executing a living room floor plan to setting a formal table; from choosing HEPA filters to sealing soapstone countertops; from organizing your home office to polishing your silver and caring for family heirlooms. Martha Stewart's Homekeeping Handbook is organized for clarity and maximum practicality:
Room by Room covers the upkeep of the appliances, tools, furnishings, and surfaces found in each room, from the entryway to the kitchen, from the attic to the laundry room.
Throughout the House instructs the reader on the proper ways to routinely clean and periodically maintain everything in the home, including dusting, sweeping, vacuuming, polishing, scrubbing, waxing and much more.
Comfort and Safety focuses on techniques to ensure your home is running properly and safely, such as recognizing when to clean vents, fixing a leaky faucet, and eradicating pests.
A-to-Z Materials Guide provides an invaluable resource that explains the unusual materials that many favorite objects are made of from abalone to zinc "and how to care for them so they last.
By Kim Rinehart
What would you do if someone told you that there was a better way to clean and organize your home and still have time for all the things in your life that you actually enjoy? Well, there is and it's called The Big Clean and now this classic organization and housecleaning manual has been revised and updated.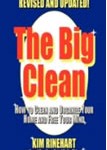 Due to a complete lack of time, Kim Rinehart, author of Goodbye, Fatty! Hello, Skinny! How I Lost Weight And Still Ate The Foods I Loved-Without Dieting, through trial and error developed a system to clean and organize better and more efficiently. In her book, The Big Clean: How to Clean and Organize Your Home and Free Your Mind, she shows you exactly how it works.
The great thing is that once it has been performed, it will allow you to go for extended periods of time without worrying about housework. In fact, you will generally only have to put in thirty minutes or less a week to keep your home clean and organized. This book not only contains tips that will help you save time but also money. It's easier than you think to stop wasting time and start enjoying life.
The Big Clean: How to Clean and Organize Your Home and Free Your Mind will show you how.
By Kim Woodburn
You watched the TV programme and you bought the book but is your house still a bit dull round the edges? It is time to get Kim and Aggie round to do the spring cleaning – their ultimate "Cleaning Bible" is the only helping hand you need for all tasks of a domestic nature.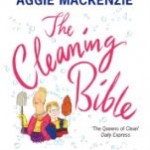 Every tip and trick from their combined cleaning experience of about half a century is included, and they always use natural products where possible so even your conscience will be clean. Make a space next to Delia and Jamie and welcome Kim and Aggie to your domestic bookshelf!
About the Author
Aggie MacKenzie has worked on many national magazines, and was associate editor at the Good Housekeeping Institute, where all the latest appliances, cleaning products and gadgets are tested. She now writes a column for The Times. Kim Woodburn is a professional cleaning lady, and has kept house for Hollywood moguls and even a sheik in Kent.