To clean your iPad screen, all you need is a clean, soft,  lint-free cloth, slightly dampened with water. Do not use any chemicals – no window cleaner, no general purpose cleaners, no aerosols, no solvents, no alcohol, no ammonia and no abrasive cleansers. Just water. The iPad screen has a special coating on it which repels the oil left there by your fingertips. Over time, this ability to repel oil diminishes and you will find that you cannot clean the fingerprint marks off your iPad screen as well. If you use any cleaning chemicals on the screen, you can further reduce the screen's repelling abilities.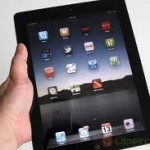 Completely turn off your iPad. Gently wipe the iPad screen to remove fingerprints. Avoid getting any moisture into any openings on your iPad.
Keeping your iPad in a case will limit the possibilities of the screen getting damaged or scratched. Also, try not to eat or drink near your iPad to avoid spills on your device which may get into the openings and damage your iPad.