Read here to find out easy ways to clean a rug and whether to go with a professional rug cleaning company or to do the rug cleaning yourself.
If you're looking for a way to remove surface dirt and oils from a simple rug, you might want to start with steam cleaning.  If you're looking for a deeper way to clean your rug, you'll need a few more resources and time.  If you have a rug that's made from expensive fibers, it may be safer to take it to a professional rug cleaning company that has better tools and machines.
Rug Cleaning:  Using a Steamer
You can rent a steam cleaner from almost any home or grocery store now-a-days.  Get a carpet or rug shampoo to pre-condition the rug.  Agitate the rug to break up the dirt and oils using a brush or towel.  Depending on the type of fabric your rug is made from should dictate the roughness of the bristles in the brush.  Using the steam cleaner, you'll "vacuum" up the water and dirt.  Once you've suctioned up all the water, you can speed up the drying process using fans.  Using a clean brush, brush the fibers the same direction to make your rug look like new.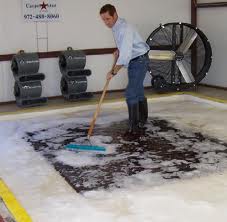 Rug Cleaning:  DIY or Professional?
DIY Tips
If you can find the right tools and don't mind spending the time, do-it-yourself rug cleaning is the way to go.  To get a more in depth rug cleaning, you'll need a power washer, carpet soap, buffer and wet/dry vacuum.  The first thing you'll want to do it saturate the rug with water.  Use a buffer (or brush) and soap to agitate the rug and break up any dirt and oil.  Look for a soap that has a neutral pH.  Diluted white vinegar also works to clean spots, break up dirt, and kill germs. Always test an inconspicuous part of the fabric first to be sure the colors don't run or fade.
Once you've scrubbed the rug, use the power washer to rinse it out.  You can do this while your rug is laying flat on the ground, but you may want to rotate it throughout the cleaning.  Use your wet/cry vac to vacuum up any excess water.  Depending on how dirty your rug is, you may need to repeat the rinsing and vacuuming.  If possible, hang your rug to dry.
Rug Cleaning: Professional Company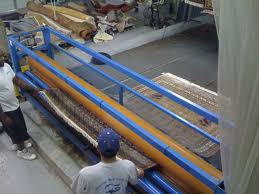 Professional rug cleaning companies are familiar with various types of fabric and methods of rug cleaning.  They have better machines and tools to thoroughly clean your rug.  For example, it may be nearly impossible to find a carpet buffer large enough to clean your rug yourself.  However, a professional company has a tool like this at the ready.
A professional company also has machines that ensure all the soap  is removed from your rug and machines that speed up the drying process.  If you're looking for convenience and to save time, go with a professional rug cleaning company.
Recommended Products
[amzn_product_inline asin='B001U3WKFY']
[amzn_product_inline asin='B000WB1Z5Q']