Domestic cleaning is a part of all of our lives.  However, the time may come when you have a large house or a busy schedule and you cannot handle all of the cleaning yourself and would like to hire a domestic cleaning company.  Before you do so, be sure you know what to expect from a housekeeper.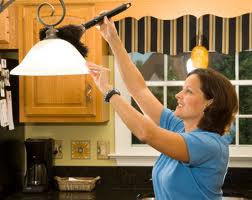 A housekeeper is responsible for the removal of litter, dirt and stains.  A housekeeper does not generally pick up toys, clothes, or other clutter, though.  Talk with the house cleaning company to determine what is considered clutter and what isn't.  For example, some charge extra for cleaning dishes, but not for putting dishes in a dishwasher.  Dusting, sweeping, vacuuming and mopping are standard responsibilities for a housekeeper.  Cleaning tubs, showers, bathroom counters and mirrors are also usually included in the cost.
For an additional charge, you can add on just about anything you want to:  washing windows, TV screens, cleaning blinds, dusting baseboards, watering plants, folding laundry and changing sheets. Prices vary depending on the types of services done, the size of your house and how often you have a housekeeper come out.  Most domestic cleaning companies require payment at the time of services in the form of cash or check.
You can have a housekeeper come while you are home or while you are away.  Homeowners often leave a key with a housekeeper or under the mat, when hiring a company, since the housekeeper may change from week to week.  Housekeepers should bring their own supplies and you have the option of choosing eco-friendly products or more mainstream products.
Domestic cleaning service is a great idea for families that are busy and have the extra income to pay for it.
Recommended Products
[amzn_product_inline asin='B000W4RS8Q']
[amzn_product_inline asin='B001M7S0R0′]
[amzn_product_inline asin='B001PNRRD4′]
[amzn_product_inline asin='0955698138′]