In this post, we're going to talk a little about grout cleaning, but before we do, I thought it might be helpful to provide a little background.
Grout used between tiles and is a mixture of cement, color, and sand.
If not properly maintained by sealing and cleaning grout will become discoloured and full of mold and mildew. So when possible apply a grout sealer whenever installing tiles and grouting plan to apply grout sealer which will make the grout cleaning much easier.
Dirt will collect porous holes on the grout surface and if it is not sealed, the grout will discolor because there is no protective sealer which covers, fills and permeates the porous surface. If not sealed, even mopping the floor will cause discoloration to the unsealed grout. All the dirt-filled holes will hold on tightly to the dirt and the mop will just move the dirt from one little hole to the other. When mopping, your tile grout (which has a rough surface) basically cleans the dirty mop by allowing the dirt in the mop water to fill in the tiny holes.
Bottom line, if your grout is not sealed, it will become nasty, dingy and covered in dirt; thereby increasing the amount of grout cleaning you are going to have to do! Mold and mildew that is lurking in your damp shower will turn your grout to a nasty shade, too — all the way from a delicate pink to mottled brown, speckled or even solid black.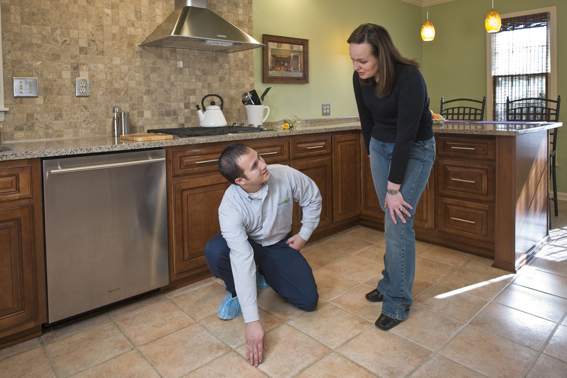 The best way to clean it is to use water and general purpose cleaner to loosen the dirt from the grout and use a wet/dry vacuum to pull the dirt back up and out of the holes. Look for a stiff brush or a brush designed for grout, which are usually narrow and have tapered brushes. Scrubbing using a general purpose cleaner is fine, you can use a dilution of chlorine bleach and water mixed at 1 part bleach and 5 parts water.  The bleach dilution is particularly effective in cases where you have mold or mildew.
Once you have cleaned the grout take the time to seal the grout with a very good remember you get what you pay for, grout sealer. If you elect not to seal the grout, you will have a very nasty mess in a short amount of time – which will cause you to again go out and search the Internet for this page. If you don't protect your grout with a sealer, it will become dirty and very difficult to maintain – period. Also use floor mats in your door ways to help keep the floors clean. In cleaning prevention is the key, using an entrance mat, or doing the extra work to seal the grout will go a long way to make ongoing grout cleaning much less work.